Flood4Cast®: Vlaamse technologie
---
Flood4Cast®: Vlaamse technologie voor een operationeel klimaatadaptief waterbeleid
Flood4Cast®: Vlaamse technologie voor een operationeel klimaatadaptief waterbeleid
Operationeel klimaatadaptief waterbeleid wordt voor elke stad of gemeente financieel én technologisch haalbaar
De Flood4Cast® software suite is het resultaat van een unieke combinatie van neerslagradardata, IoT, 'state-of-the-art' modelleringsconcepten en het bundelen van Vlaamse en Internationale expertise in watermodellering. 
22 maart, 2021. Een toelichting door Patrick Swartenbroekx, CEO HydroScan.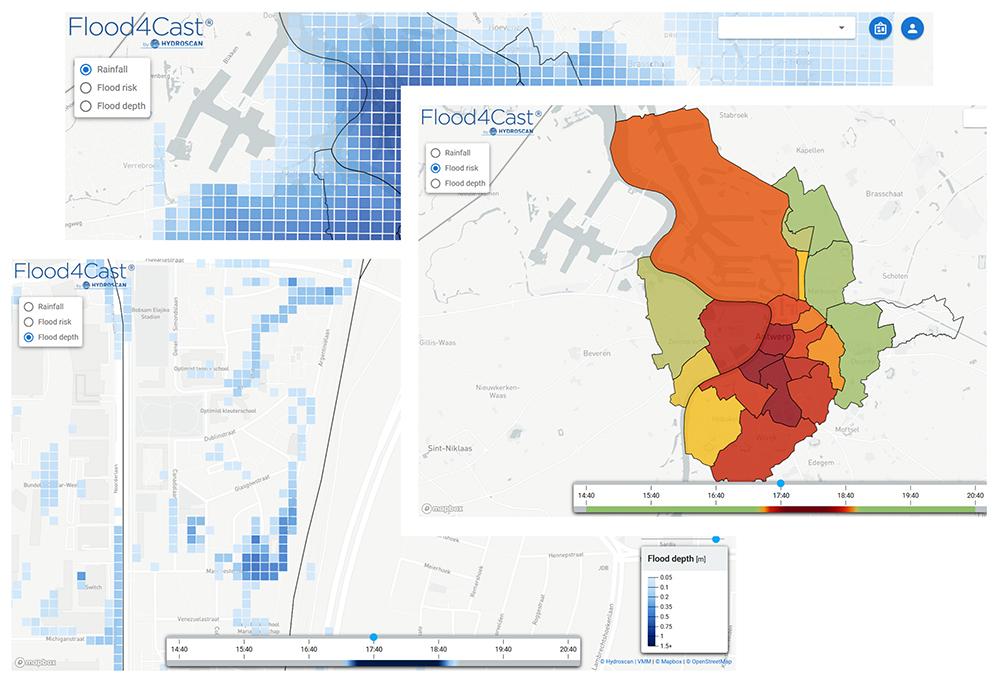 Supersnelle water-impactanalyse van klimaatadaptieve en remediërende maatregelen
Flood4Cast® MASTER PLANNER laat toe om overstromingsgevoeligheden voor een provincie, stad of gemeente tot tientallen keren sneller in kaart te brengen dan met conventionele modelleringssoftware. Het gaat om integrale 'water op straat' modellering met ingenieuze pre-processing op basis van bestaande GIS-kaarten, en met zéér korte modelopbouw- en rekentijden. Kalibraties met andere modellen of vereenvoudigingen zijn niet nodig.
"Klimaatadaptief waterbeleid wordt voor elke stad of gemeente financieel én technologisch haalbaar! Een impactanalyse van planmatige remediërende maatregelen gebeurt in enkele minuten." 
"De software werd ontwikkeld in samenwerking met onderzoeksorganisatie VITO en met steun van Vlaio. We mogen spreken van een technologische doorbraak voor een operationeel klimaatadaptief waterbeleid." 
Realtime voorspellen van stedelijke overstromingen. Tot 3 uur op voorhand
Flood4Cast® REAL-TIME ALERTER combineert realtime data van de KMI buienradar met vooraf verwerkte pluviale overstromingskaarten en 'vertaalt' die data naar realtime overstromingsvoorspellingen tot op straatniveau. Integratie met  beschikbare sensoren en pluviometers kan de nauwkeurigheid nog verhogen.
"Interventieteams kunnen tot enkele uren op voorhand preventief schakelen: beschermen van kritische overstromingszones, inzetten van beschikbare pompen, omwonenden op de hoogte brengen. Een kritische tijdswinst voor de interventieteams." 
"De software heeft haar operationele werking al bewezen tijdens een pilootproject met Brandweer Zone Antwerpen in samenwerking met VITO en Imec." 
Vrijmaken van capaciteit wachtbekkens bij naderende storm
"Met inzet van de software kunnen ook wachtbekkens 'stormklaar' gemaakt worden: namelijk het vrijmaken van de maximale capaciteit van retentiebekkens op kritische momenten."
Interested? How can we help you?
Do not hesitate to tell us about your situation or ask any questions you may have.
To also know that, in most situations, we can identify your real needs and suggest the most appropriate solution based on a first quick scan.

Send an email or call +32 16 24 05 05.